Access Storage - Scarborough West
40 Metropolitan Rd, Scarborough, ON
1ST 4 WEEKS FREE *
Photos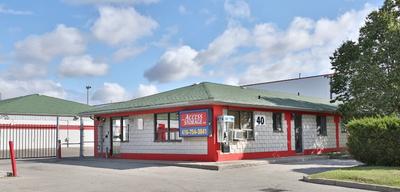 Hours
Office Hours

| | |
| --- | --- |
| Monday 9:00am | to 5:00pm |
| Tuesday | 9:00am to 5:00pm |
| Wednesday | 9:00am to 5:00pm |
| Thursday | 9:00am to 5:00pm |
| Friday 9:00am | to 5:00pm |
| Saturday | 9:00am to 5:00pm |
| Sunday | Closed |
Access Hours

| | |
| --- | --- |
| Mon-Sun | 24 hours |
About Access Storage - Scarborough West
We are Canada's  #1 storage company and have the metal to back it up, winning numerous service awards such as the Consumers Choice Award for the best storage company. No matter what your storage needs or how long you will be renting, Access is the perfect storage solution. 

Most of our facilities offer 1st 4 WEEKS FREE or FREE MOVE IN VAN. Call now for details!
* 1st 4 weeks free - subject to availability
Features
Climate Control
Free Moving Truck
Drive-up Access
Security
24 Hour Access
Parcel Delivery Acceptance
Drive-in Loading Bay
Packing Supplies
Dollies & Carts Available
Payment Options
Vehicle Storage
Hours
Office Hours

| | |
| --- | --- |
| Monday 9:00am | to 5:00pm |
| Tuesday | 9:00am to 5:00pm |
| Wednesday | 9:00am to 5:00pm |
| Thursday | 9:00am to 5:00pm |
| Friday 9:00am | to 5:00pm |
| Saturday | 9:00am to 5:00pm |
| Sunday | Closed |
Access Hours

| | |
| --- | --- |
| Mon-Sun | 24 hours |
Facility Reviews
---
Had a great experience with renting a small 5x5 storage unit. Easy to book an appointment, they were very responsive and helpful and actually seemed like they wanted my business. Prices are also pretty good compared to other places. Got there for my appointment and immediately went to see the unit, paperwork and registration process for the unit took less than 15 minutes and I was good to go. Regina was my associate and she was wonderful, explaining everything to me in detail and answering any questions that I had. Would definitely recommend.
---
I rented a 10x5 unit for 3 months. They gave me a special discount for 3 month. And then I just moved to another storage unit as their regular price is very high compared to other storage companies. But, their storage have a better security. They are clean. Enough dolly/carts to move your stuff. 24 hour access. Overall it was a nice experience other than the price of their regular rent.
---
Everything was convenient and easy as far as using the facility BUT, when I rented the locker in January of 2020, the price was $59.90 per month for a tiny unit the size of a closet. Later on in that year, it went up by $10.00 so I was paying $69.90 and another 6 or so months after that, it went up another $10.00 to $79.90 so the price went up TWICE in 18 months for a total of a 30% increase. That is an insane price increase in such a short time. I moved my stuff out as a result and will not be using their facilities again with that kind of price gouging.
---
Regina was an amazing, friendly and accommodating person! She made all of my transactions sooooo easy! It was a pleasure to have dealt with her! I would most definitely refer Access Storage due to the excellent service I received from Regina!
---
No wonder that Access Storage got excellent reviews on Google!!! I rented a storage unit and never thought I'd say "I've enjoyed the whole experience". Other than the wonderful facilities, I'd like to emphasis on the customer service, which was superb! Since the first conversation till meeting in person to see the unit, Regina made the entire process so easy and has been very much helpful. Attention to details, super patient, not only being professional, I could tell that she truly cares about people and her job! I'm very glad to finally meet her in person. Her delightful greeting and sincere smile made me feel at ease, specially during this stressful moving time. THANK YOU, Regina! BTW, this is at 40 Metropolitan Road in Scarborough.